Community Garden
In October 2003, an enthusiastic group of children joined together to form a Gardening Club. They then joined with the School Council in planning a Community Garden which was built in Spring 2004, with support from the Brook Home and School Association.
With all the children's hard work, the garden flourished, with a vegetable garden, 'Nectar Bar' to encourage wildlife, and raised sensory beds for 'Touch', 'Smell', 'Sight' and 'Sound'. All areas are linked by wheelchair wide pathways, and are surrounded by picnic benches.
Early Years children have their own growing area with specially constructed raised beds, where they grow their favourite fruits and vegetables. Cucumber and strawberry are very popular!
Different areas of the garden grow different vegetables. We look forward to picking our vegetables ready for the Harvest Festival.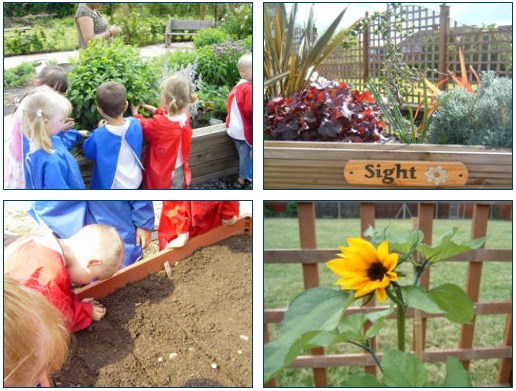 The garden is open each day from 8.30am to 6.00pm when children are in school and is visited by the classes. Groups of children from each class are educated in the garden on a weekly basis, weather permitting.
Environmental Classroom
In 2006, we celebrated the opening of our new Environmental Classroom adjacent to the garden, providing superb facilities for scientific and artistic study. The classroom provides a venue for Butterfly Babies Parent and Toddler Group.
Our Environmental Classroom and Community Garden provide fantastic environments for children to learn about the world in which they live.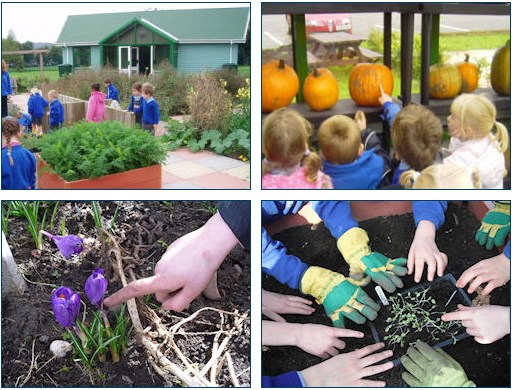 Community Orchard
Our Community Orchard was planted in February 2008 when an apple tree was planted by each class in school. The project has been funded by Awards for All.
We have added new trees to our orchard since then and enjoy picking and eating the fruit from our maturing trees.